About us
Cosmoworker.
Our primary goal is to provide professional and reliable recruitment services. We deal with continuous recruitment as well as short recruitment for single projects. We are able to achieve high standards of our work thanks to a team of qualified recruiters who are passionate and dedicated to their work.
Our website contains information about our services. We also suggest visiting the FAQ section, where we explain the most common issues. In order to learn about the benefits of working with us, please visit relevant sections on our website. Do not hesitate to contact us by phone or e-mail. Our team will be happy to assist you.
8 years experience in HR services
Recruitment
The right people in the right places
We are aware that an appropriate number of suitable and qualified employees ready to work towards the company's objectives is crucial for the success of a company. We would like to offer professional assistance in this area.

Specialists


We are engaged in searching for and selecting employees
for specialist positions. We recruit candidates
for single projects as well as provide continuous recruitment services. Our main goal is that our candidates always meet
the specific requirements set by the employer.





Temporary workers


We deal with recruitment of seasonal workers. We cooperate with seasonal workers from Poland and also with people residing in the Netherlands, Belgium or Germany.
This allows us to conduct the recruitment process nimbly,
even with a large number of vacancies.
SECTORS
Huge experience in various projects
We have carried out successful recruitment processes for specialist and low-skilled positions in various sectors. Our candidates have worked in such positions as the following ones:

Agriculture



fruits, vegetables, flowers and mushrooms harvest workers; greenhouse workers, packers, gardeners, composting plant workers, agricultural machinery mechanics and operators.





Construction



carpenters, bricklayers, welders, painters, plasterers, concreters, pavers, plumbers, electricians, fitters.




Animal farms



Swine, poultry, beef, dairy and cattle breeders; farm equipment mechanics and operators.


Industry



production workers, assemblers, packers, galvanizers, painters, welders, carpenters, upholsterers, electricians, butchers, machine operators.

Logistic & transport



warehouse workers, order pickers, drivers, forklift operators, packers.


Automotive



car mechanics, painters, tinsmiths, vulcanizers, electromechanics.

Health care



nurses, nannies





Mechanicy samochodowi, lakiernicy, blacharze, monterzy opon samochodowych, electromechanicy.
Countries
Knowledge of European labor markets
Cosmoworker specializes in conducting recruitment processes of temporary workers mainly for the Dutch, Belgian, German, and Italian markets. We have an extensive database of candidates living in the countries in which our clients operate, what allows them to start work quickly.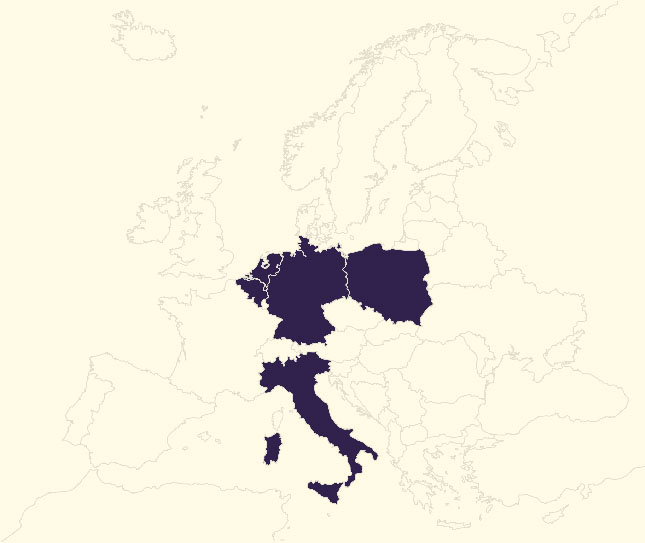 COOPERATION
What we give to our clients
Focusing on long-term relationships with our clients we have learned how to come up with flexible solutions matched to their individual needs. Cooperation with clients includes:

The entire process of recruitment and selection of candidates for specified positions.

Translations



Flexible document workflow matched to customer needs.

Periodic visits to analyze the situation and the implementation of future tasks.



Assistance in the coordination of employees.

Thinking outside the box.

Assistance in emergency cases 24 hours a day.

Involvement and enthusiasm of Cosmoworker team. Saving of time and money.
FAQ
Questions and answers
Who are the foreign employers?
These are foreign Employment Agencies that employ and direct to work recruited candidates. These companies have years of experience and extensive knowledge of the local labor market.
How can I start a cooperation with Cosmoworker as a potential customer?
In order to start cooperation, please contact us by phone: 0048 660-457-009 or email: mmn@cosmoworker.eu.
What kind of agreement is signed between Cosmoworker and candidate for a work abroad?
According to the law recruited candidates sign job placement contract, which allows them to work for foreign employer.
Address
COSMOWORKER
ul. Smolna 13A/178
Poznań 61-008
(0048) 660-457-009
mmn@cosmoworker.com
www.cosmoworker.com